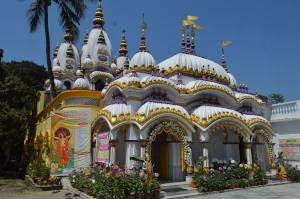 Temple
Sri Sri Radha Madhav, Sri Sri Jagannath Baladev Subhadra Maharani and Sri Sri Gaura Nitai are the presiding deities of ISKCON Habibpur. We have a beautiful temple structure with a marble flooring and vibrant temple hall which is always filled with spiritual vibrations of kirtans, devotional bhajans and lectures. Many devotees come here to take darshan of our beautiful deities and to attend the aratis and experience the pure bliss of devotion.
The temple opens in the morning at 4:30am with Mangal Aarti followed by Japa, Sringar Darshan, Guru Puja and Srimad Bhagavatam Class. Bhog Aarti happens in the afternoon and the temple darshan is closed at 1pm. Again Darshan opens at 4pm with the Aarti. At 5pm the is a lecture on Bhagavad Gita and at 6:15pm Tulasi arti is performed followed by Gaura Aarti. Temple Darshan closes at 8:30pm after Sandhya Aarti.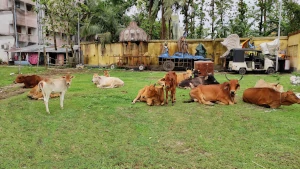 Goshala
We have a Goshala consisting of Cows, Bulls and Calves. Cows which are very dear to Lord Krishna are lovingly taken care by our devotees here. You can come here and feed the cows personally and please Lord Krishna. Cow is like our mother as we get milk from her which nourishes our body with all nutrients. Bull is like our father who helps in ploughing the land and producing the food grains and vegetables. Cow dung and urine are natural fertilizers for the land.
Lord Krishna and Balaram personally used to take the cows for grazing every single day and taught us with their example how we should take care of cows. Lord Krishna has flute in the hands with which he used to call the cows by playing the flute while Baladev holds plough in his hand. Hence protecting cows is not only very essential for our survival but also to progress in spiritual life.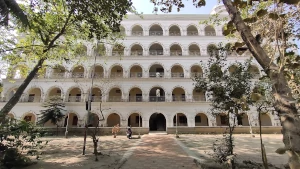 Guest House
We have a nice G+4 storied beautiful guest house to stay for visitors and devotees to get a first-hand experience of devotional life. We have both AC and Non-AC rooms with hot water facility and generator. By staying here at our Guest House you can easily attend the morning Mangal Aarti and begin your day with Lord's blessings. You can participate in the all temple programs from morning to evening.
From here you can also visit nearby holy sites related to the Lord Chaitanya Mahaprabhu and His associates like Phuliya (Srila Haridas Thakur Bhajan Kutir), Shantipur (Advaita Acharya's House), Ambika Kalna (Gauri Das Pandit's House), Chakadah (Lord Jagannath Temple), Birnagar (Bhakti Vinod Thakur birth place) and many others. For booking and more details, you can contact us at +91-9732185553.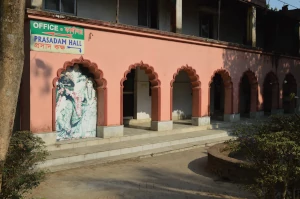 Prasad Hall
We provide delicious Jagannath Prasad which can nourish body, mind and soul. We have both AC and Non-AC Prasad halls. Our Non-Ac Prasad Hall has 100 persons seating capacity and AC Prasad Hall has 32 seating capacity. Every day different varieties of Bhoga are offered to our Lordships and then the Prasad is distributed among the devotees and guests.
We use traditional methods of cooking on firewood which makes the Prasad all the more heathy and nutritious. We also accept group bookings and can provide packed Prasad for journeys. We can also cater to the specific needs of the devotees. Please contact us in advance, so that we can give you best service.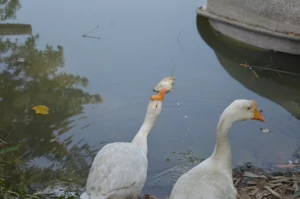 Boating
We have a nice water body in which beautiful rajhamsa are always seen swimming. There are self-riding boats available for the visitors. Experience the refreshing boat ride with your family and friends.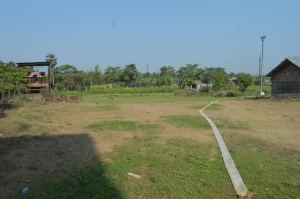 Park
Park has nice green grass with different varieties of plants with colourful flowers. Relax and breathe natural fresh air amidst the natural surroundings. In some seasons you can find exotic birds coming here.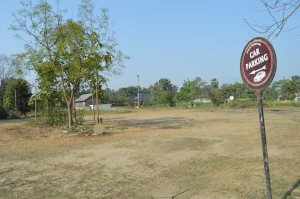 Parking
We have ample space for parking all kinds of vehicles from cycle to bus.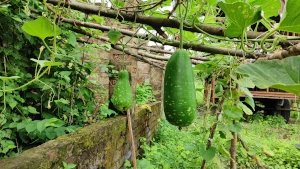 Organic Farming
Using the Cow urine and cow dung as natural fertilisers, we grow here different kinds of flowers, vegetables and grains for the pleasure of Lord Krishna.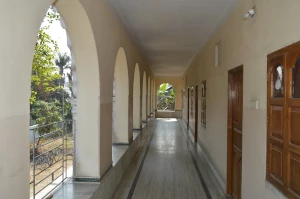 Brahmachari Ashram
A place to stay for the celibate monks who have dedicated their lives to serve Lord Krishna. Enquire from them about how to perform devotional service and perfect your lives.